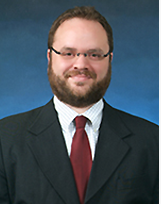 Professor of Law.
Member of the Tennessee Bar.
Biography
Prior to joining the faculty at Handong, Professor Mundy served several years as a law clerk to a member of the federal judiciary in Washington, D.C. That legal clerkship was preceded by a position as director of government relations and communications for Jubilee Campaign, an international organization with a focus on religious liberty worldwide.

In that capacity, he acted as an advocate for religious freedom on Capitol Hill, conducted fact-finding missions throughout Asia, and accompanied members of Congress and other world leaders on related expeditions. Professor Mundy is also a published writer both in the legal realm and as a freelance journalist in the area of international human rights.

He teaches Immigration Law and the introductory and advanced courses of Legal Research and Writing.

Professor Mundy holds a M.A. in Public Policy as well as a J.D. from Regent University.