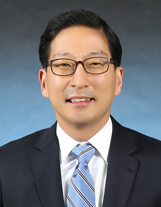 Associate Dean and Professor of Law
Member of the New York Bar
Biography
Professor Lee received his bachelor's degree (A.B.) in Political Science and Asian Studies from Vassar College. At Syracuse University, he received his law degree (J.D.) with honors from the College of Law and his master's degree (M.A.) in International Relations from the Maxwell School of Citizenship and Public Affairs. He received his master of laws degree (LL.M.) in International Legal Studies from New York University School of Law.

He was associated with Burlingham Underwood LLP in New York where he practiced maritime and admiralty law and commercial litigation. Professor Lee has also taught as an adjunct professor at Regent University School of Law's International Law and Human Rights Summer Program in Strasbourg, France (2005 and 2013) and as an instructor at the National Human Resources Development Institute (Korea), Korean Intellectual Property Office, and Seoul Bar Association. He was also a visiting fellow at Emory Law School's Center for the Study of Law and Religion in the fall of 2011 and visiting scholar at Regent University's Center for Global Justice in the fall of 2018.

Professor Lee is Co-Editor-in-Chief of the Asian Yearbook of International Law and Managing Editor of both the Encyclopedia of Public International Law in Asia and the Encyclopedia of Ocean Law and Policy in Asia-Pacific all published by Brill | Nijhoff. He is also a member of the Board of Governors of DILA and a member of the Board of Directors of Advocates International (USA).

He was also the host of "The Point," a weekly news program broadcast by Arirang TV, Korea's leading English language broadcasting station.

His representative publications include "South Korea," in the Oxford Handbook on International Law in Asia and the Pacific (Oxford University Press, 2019) (co-authored); The Making of International Law in Korea: From Colony to Asian Power (Brill/Nijhoff, 2016) (co-authored) and Northeast Asian Perspectives of International Law: Contemporary Issues and Challenges (Martinus Nijhoff Publishers, 2013) and Dokdo: Historical Appraisal and International Justice (Martinus Nijhoff Publishers, 2011) (both co-edited).

At Handong, he teaches Contracts, Public International Law, and Property.