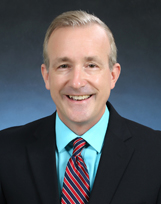 Professor of Law
Member of the Pennsylvania, New Jersey and Washington D.C. Bars
Biography
Professor McGinley graduated from Penn State University, B.S., and Regent University School of Law, J.D., summa cum laude.

Prior to joining the faculty at Handong, he practiced as a litigator specializing in nursing home fraud and abuse with the firm of Wilkes & McHugh. Before his time at Wilkes & McHugh he spent a year with a public interest civil rights firm, the Center for Individual Rights, as associate counsel. This was preceded by a two year stint as a law clerk in the U.S. Court of Federal Claims serving the Honorable Richard B. Abell.

Prior to entering law school Professor McGinley spent more than ten years in the secondary mortgage industry in various operational capacities. He has also taken time away from work to coordinate field operations for a political campaign.

Professor McGinley has written articles on the law, religion, popular culture and politics which have been published in various periodicals.

He teaches the introductory and advanced courses of Legal Research and Writing.