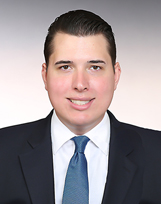 Professor of Law
Member of the New York Bar
Biography

Professor Seefried joined HILS in 2022. Prior to joining HILS, he practiced immigration law with his wife in the United State. He is admitted to practice before the New York Supreme Court, Appellate Division, Third Judicial Department. He is also a member of the American Immigration Lawyers Association.

Professor Seefried is a registered New York attorney and practices US immigration law with his wife, who is a native of South Korea and a fellow New York attorney. Although they serve a diverse clientele in the United States, their practice focuses on consular processing for overseas clients.

Aside from practicing law, Professor Seefried is a certified Florida secondary school teacher with experience teaching international students in the United States and Taiwan about history and government. His research interests involve the historical relationship between law, politics, and Christianity.

Professor Seefried teaches students about private international law and legal writing at HILS.