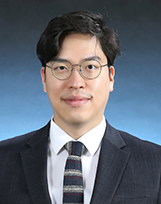 Professor of Law
Member of the District of the Columbia Bar
Biography
Professor Syn received a B.A. in business from Calvin University (MI, USA) and a J.D. from Handong International Law School. He is currently an active member of the District of Columbia Bar.

After graduating from law school, he clerked for the Honorable Chief Justice Roy S. Moore of the Supreme Court of Alabama. Subsequent to his time in Montgomery, Alabama, he returned to South Korea where he helped set up CREDO, a Korean public interest firm that focuses on religious liberty, protection of the family, and the sanctity of life.

Upon passing the bar exam, he joined the ROKA JAG Corps where he served in various legal capacities. He was first stationed at ROKA Headquarters (HQ) where he served as an International Law Officer. He was later stationed at the High Court of the Armed Forces (HCAF) where he served as a Foreign Legislation Research Officer, providing case law research for the military judges at HCAF. Following his time at the HCAF, he was stationed at the Defense Acquisition Programs Administration (DAPA) where he reviewed procurement contracts of foreign military equipment and managed international disputes involving DAPA.

Following his military service, he joined Jungjin Law LLC, a Korean law firm, where he worked as an associate foreign attorney. As an associate foreign attorney, his area of practice included international corporate law and international arbitration.

Professor Syn teaches Legal Research and Writing and Advanced Legal Writing and Advocacy.