Contribution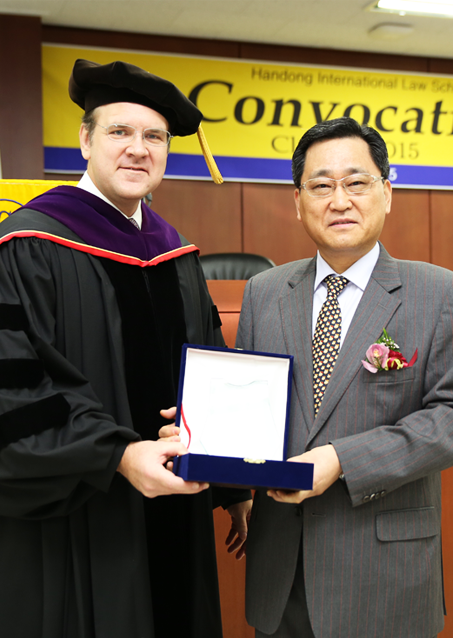 Contributions
The financial support of Handong International Law School, like that of the University, has been a venture of faith. From the Board of Trustees and the President, to the many parent prayer groups throughout Korea and the supporting churches in the United States, there has been a sense that this University is "God's University," – called by Him and sustained by the prayerful support of many donors, large and small, throughout its life.
Student tuition fees support only a fraction of the total costs of education, and this is especially the case with the Law School, with its international scope, the costs of engaging an international faculty, providing an extensive library, and also assuring student and institutional relations with other institutions throughout Asia, the United States and Canada.
As the Law School expands, we will require support for scholarships for students from developing Third World countries, for law students to be involved in summer missions and training programs. We also need funds to assist Handong students to participate in international legal competitions held in the United States and Europe, academic scholarships, and funds for expanding the Asian Collection in the Law Library, eventually a separate new Law School building on the campus.
We are expecting God's miracle again on these urgent needs. Why not join us right now?
Capital needs are also urgent. The Law School is seeking funding for on-campus facilities for law students and faculty housing, and eventually a separate new Law School building on the campus.
For more information about contributing to HILS, please call the Main Administration Office at
82-54-260-1715
.
How to Help HILS
Once you made up your mind to help HILS, you can decide where your contribution should go by following the next steps :
For Domestic Donors
Please send your donation to the Handong Global University's
KEB Hana Bank Account : 910-910005-55404
For more information including tax deduction, please call to 82-54-260-1715.
For Overseas Donors
Please send your check by mail or make a remittance to
HIFI (Handong International Foundation Inc.)
3002 Westhurst Lane Oakton, VA 22124-1748 U.S.A
Cellphone: 703-627-8050
E-mail Address: kschin1983@gmail.com (Mr. Keum Seop Chin Ph.D.)
HIFI Bank Account: CITI BANK, USA #15536548
When you send your money, you must designate the Handong International Law School as a recipient, otherwise, your donation will go to the general fund of the Handong Global University.
For more information including tax deduction, call to 82-54-260-1715

Thank you for your support and God bless you.